Salon is
here
. See you at 9 Eastern.
The topic for tonight's skype salon is
Just how awesome is
Manila Ryce
?
He designed the new avatar and header you see here. He's awesome, humble too, but knowing him, he'd much rather we discuss this at length tonight, with particular attention to his sublimity. How sublime is Manila? When my breasts stop being a sex object/infant feeding device and become an Adobe Illustrator CS3 shading conundrum? That's pretty damn sublime.
Don't think the old avatar is going away. The resplendent Dr. Zaius just sent me this, to get ready for the Blogswarm against Theocracy II happening July 1-4:
Bwa ha ha. Don't forget that
Zaius is hosting Carnival of the Liberals
that same time so if your BAT post has a strong focus on patriotism you should submit it to him, too.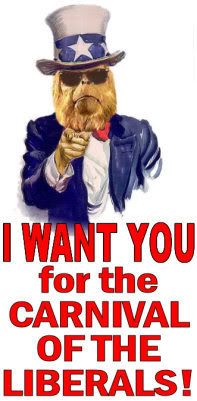 Salon
Tonight is the weekly live Skype chat with Blue Gal and some people she hardly deserves to know. I'll be there after 9 Eastern time. I'll post the link to the salon at the top this evening.
You do need to
download Skype
to join in but remember, it's just typing. You don't need a skype headset or anything special.