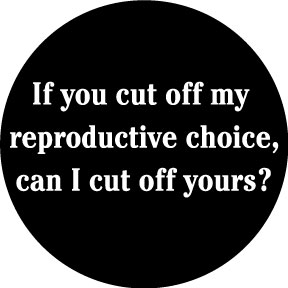 There is a constituency of women who are good Christians and love their babies AND have had to make incredibly painful decisions about reproduction.
Blue Gal is one of that constituency.
Infertility treatment. Blood drawn up to three times a week,which made the veins in my arms that made me look like an addict.
Surgery where they took my uterus out of my body cavity and operated on it. No shit. Condemned me to three C-sections, no complaints there, but if I HAD gone into labor it would have been possibly life-threatening and definitely fertility threatening. Doctor knew best. Get it?
Success. Weekly ultrasounds. Finding out it was twins one week.
Being told the twin was a "demise" the second week.
You boys on the court (no offense, Ruth) are
tossing around the term "demise"
when the pro-life lawyers for the fundies want everyone to think "baby-killing doctors."
I did not kill my baby. I probably would never have known that second embryo existed had my treatment not included ultrasounds.
I
have
three
children
. I weep for women who have to have medical procedures done that terminate very wanted pregnancies in order to save their own lives. That is what happens.
These painful decisions are between a woman and her doctor and her God. Congress shall make no law...period.
Memo to the new Congress: Welcome. There are less Republicans now, and a woman in charge. I hope that makes a difference.
Loving mothers of wanted children: some of us lost our children in war, some of us lost our children before birth. Some of us are blessed with children, some bless children without having any of our own. We are ALL watching you. Just. Don't. Fuck. With. Us.